Le Canon du Marechal Muscat-Viognier 2010 (Domaine Cazes)---This French white wine, from the Languedoc Roussillon, Vin De Pays D'oc sub-region, is a delightful blend of 80% Muscat and 20% Viognier. It is an ideal white wine for summer. The region's soil is a mixture of limestone and clay pebbles giving the wine a delicate minerality at the end with a lightly sweet, peachy notes in the front. This is a reasonably priced French vin de pays. Serve chilled, pairs wonderfully with a light brie and granny smith apples. Perfect for a summertime snack.
Les Tours De Beaumont Haut-Medoc 2009---From the fine vineyard of Chateau Beaumont nestled amid the sand dunes and pine forests of the Medoc region, 60% Cabernet Sauvignon, 30% Merlot and 10% Cabernet Franc, it is a "perfect ambassador for its appellation". Fresh sun-ripened blueberries, currants and blackberry notes with a hint of tobacco and mocha on the finish give this wine its distinctive flavor. Serve room temperature, pairs nicely with bordelaise-mushroom smothered sirloin steak.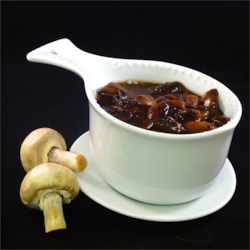 Bodelais-Mushroom Sauce
Original recipe makes

4 servings
Directions
Melt 1 tablespoon of butter in a skillet over medium heat. Stir in the garlic and shallot, and cook until the shallot has softened and turned translucent, about 3 minutes. Add the remaining 3 tablespoons of butter, then stir in the mushrooms once the butter has melted. Cook and stir the mushrooms until they begin to soften, about 5 minutes.

Pour in the beef broth, wine, and Worcestershire sauce; season with the bay leaf and thyme, and bring to a simmer over medium-high heat. Once simmering, season to taste with salt and pepper, reduce the heat to medium-low, and continue to cook, uncovered until the sauce reduces slightly, about 30 minutes. Dissolve the cornstarch in the cold water, and stir into the simmering sauce until thickened. Remove the bay leaf before serving.