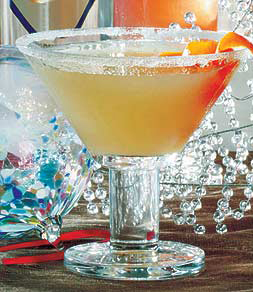 SUMMER SPLASH
3OZ of Toro de Lidia (tequila) , 6OZ Langers Pineapple juice, 1OZReady Rabbit Limejuice
Garnish with pineapple slice .
Pour into a glass over ice.
Tequila Fruit Punch
8 cups diced fresh fruits, melon, pineapple, apples, pears, and halved grapes
4 cups chilled El Amo silver tequila
3 cups chilled dry Champagne
3 cups chilled lychee
1/2 cup Ready Rabbit simple syrup
Juice of one lime
2 parts Ready Rabbit grenadine
2 parts blueberry martini mixer
2 parts Northern Peak vodka
Pour Ready Rabbit grenadine first.
Next, add the cold Northern Peak vodka by pouring very slowly off the back of a spoon.
Finally, ,add the blueberry mixer on top of vodka by pouring it off the back of a spoon very slowly. Decorate the drink with a flag toothpick.